Curriculum Vitae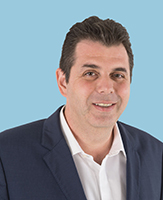 Andreas Papacharalambous was born in Strovolos in 1975. He graduated from the English School, Nicosia. In 1994, he completed his military service in the Cypriot National Guard as second Lieutenant.
He studied Business Administration at the University of Reading, in the United Kingdom. He has completed his post-graduate studies in European Politics at the London School of Economics and Political Science (LSE). During his studies, he has served as the Chairman of the Cypriot Students Organization in the United Kingdom.
Upon his return to Cyprus, he was employed in his family business. In 2001, at the age of 26, he was elected as a Municipal Councilor of Strovolos, a post which he held for 15 years. In 2014, he was elected in the position of Deputy Mayor.
In the Municipal Elections in December 2016, he was elected Mayor of Strovolos and he has assumed his duties on 2nd January 2017.
He is married to Mikaela Messiou and they have two children.